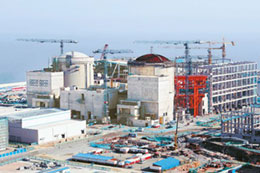 China's Nuclear Energy will step into a new era.
Nuclear energy is a clean, efficient and safe source of energy.Nuclear power development is a realistic choice to optimize the energy structure, ensure energy security and meet the energy demand of economic and social development. It is also an important way to protect the ecological environment and realize sustainable development. As a new force in the development of clean energy, nuclear power is safe, reliable, economical and has irreplaceable comprehensive advantages. China has witnessed rapid growth in recent years. The application of nuclear technology has played an extremely important role in many aspects such as medical treatment、agriculture etc.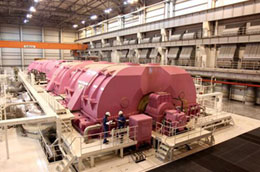 As of the end of 2018, China had 44 nuclear power units in operation, with a total operating capacity of 4590GW, ranking the third in the world (excluding Taiwan), according to the 《National Nuclear Power Operation Report》 in 2018. There are 1 1 units under construction with an installed capacity of 12.18 GW. According to reliable data, in the whole year of 2018, China's nuclear power generation capacity reached 294. 4 billion kilowatt-hours, increased up 18.6% year-on-year, accounting for 4.2% of the domestic total power generation, equivalent to saving 900 million tons of standard coal and reducing carbon dioxide emissions by 280 million tons.
The year 2018 is a big year for China's NPP construction, with a total of 7 nuclear power units put into commercial operation On January 31, 2019, four planned"Hualong #1"nuclear power units were approved, and that became the first nuclear power project approved in China after a three-year hiss his move is seen as a formal restart of China's nuclear power industry, and is expected to achieve normalized approval.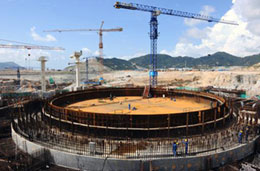 Internationally, nuclear power continues to draw high attention at the nationa level. A series of agreements upon international cooperation projects had been signed in 2018: on January 9, under the witness of president Xi jinping and French president Macron, China Nationa Nuclear Corporation signed Memorandum of cooperation with French nuclear group AREVA and signed global strategic cooperation agreement with France Framatome company CGNPC group and france alternative energy and atomic energy commission (CEA) signed an agreement of research and development of nuclear technology cooperation: On June 8, China National Nuclear Corporation and Rosatom signed the framework contract for unit 7/8 of Tianwan nuclear power plant the framework contract for Xudapu nuclear power plant and the framework contract for the supply and service procurement of China demonstrating fast reactor equipment. On November 28, Spic signed a strategic cooperation framework agreement with Spain's Tenatone etc.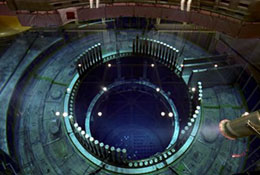 According to China's medium-long term nuclear power development plan, by 2020, the country's planned installed nuclear power capacity will reach 58 Gw and 30 million Gw will be unde construction. However, according to the latest figures released by the National Energy administratio as of January 20, 2019, China had 45.90 Gw of nuclear power units in operation and 12.18 Gw und construction. In other words, China is still 30 gigawatts short of its 2020 farget for the total installed capacity of nuclear power plants in operation and under construction To achieve this goal, China wi need to start construction of 30 nuclear power units with a single installed capacity of im kilowatts between 2019 and 2020. From the perspective of reality, China's nuclear power construction and development resources and supporting industrial base have been continuously strengthened, and China is capable of achieving the planning goals and enjoys broad market prospects.