Option 1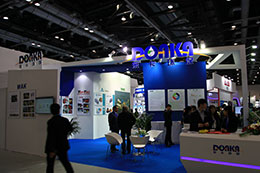 Rental of shell scheme booth USD524/Per SQM (minimum 9 SQM)
A-ready-for-display package has been designed for exhibitors for a cost-effective means of participation. And a minimum unit is 9 square meters booth (multiple units are vailable).
The Standard Shell Scheme booth (per 9 square meters) will include:
Fascia board with exhibitor's company name in English and Chinese
Partition walls on three sides
Booth area fully carpeted
One information counter
Two folding chairs
One waste basket
Two spotlights
One power socket
Option 2
Rental of raw space USD473/Per SQM (minimum 36 SQM)
If this option is selected, the exhibitors should be responsible for setting up the booths at their own expenses.