Warmly welcome to participate in NIC'2020 tradeshow!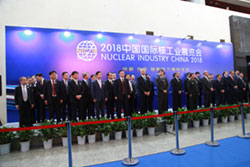 NIC is a premier great event that is expected to bring together the world nuclear industry national pavilions / groups, great and all concerned companies under one roof and one banner of NIC'2020 for their state of the art equipment / technology and services.
The government endorsement to NIC'2020 tradeshow will guarantee this is a Chinese top level exhibition. NIC tradeshows have had the history of 30 years.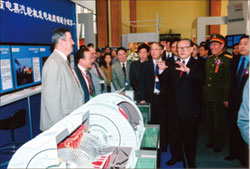 Chinese President Jiang Zemin
attended NIC show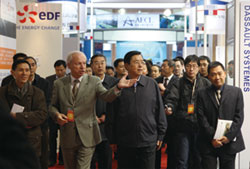 NPC Chairman Zhang Dejiang
showed up in NIC exhibition
CPPCC Chairman Jia Qinglin
talked with NIC exhibitors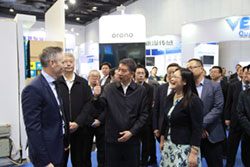 The state Councillor Wang Yong visited NIC show
Top Ranking officials visit the show
The former China's President Jiang Zemin, Chairman of NPC Zhang Dejiang, Chairman of CPPCC Jia Qinglin, Vice Premier Zeng Peiyan/Ma Kai have visited the show,The state Councillor Wang Yong have visited the 2018 show.
NIC show is unrivaled nuclear event in terms of key contacts, organization and presentation in China.
Why attend NIC show
Attending NIC event has many benefits for you and your company on raising awareness of the company and the products, finding leads from end users and prospects, creating industry relationships or partnerships. In this event, you could see the latest technology available then.
Business Opportunity is Excellent
We will have a great China's Pavilion, and these exhibitors covered the all important companies and organizations.
About NIC Nuclear Tradeshow
Every two years, high level governmental and professional delegations, as well as senior corporate executives around the world attend NIC event to forge partnership and seal deals in this gathering.
As China's largest nuclear industry event, NIC'2020 is the place to be for leading nuclear companies and budding players eager to make their marks in international and great China's potential market!
NIC event offers a unique platform for industry though leadership of its high level conference and seminars. Leading nuclear industry officials, decision makers and company chiefs gather here bi-annually to contribute to dialogues, exchange ideas and seek solutions / strategies to advance the interests in this sector.
NIC'2020 event is scheduled to be held October 12-15,2020 and will once again bring together the global nuclear industry community and key commercial, governmental delegations at this great show.